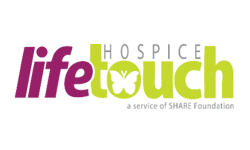 If you ask any Life Touch Hospice employees why they do what they do, you will most likely hear the same thing; it's personal. Death is something we will all face someday, but most have already experienced the death of a friend, family member, or loved one. These experiences shape us, some more than others.
For me, the death of my Papaw Turner had a direct impact on the course of my life and perspective. He died from cancer at home under the care of Life Touch Hospice in 2008. I was 15 when he died, and what I remember most at the time was the sadness of losing the first significant influence in my life. The next memory was the confusion when our family started falling apart.
Not long after Papaw's burial, there were accusations and harsh words between family members. It was a time of brokenness that continues to this day. As I got older, I am 27 at the time of writing this; I found out that death was a catalyst for a lot of family separation, debt, and brokenness.
Fast forward a few years, and I was offered a position with Life Touch Hospice, as Outreach Coordinator. Working for Hospice allows me to talk to people about death and the dying process. I treasure this because it presents the chance to remove or mitigate the potential harm from the end of life. Dying, although the epitome of ubiquity, is something our culture has shrouded in fear, mystery, and anxiety. This perception of death is a relatively new phenomenon and does not have to be this way.
We CAN change how we face death. We CAN change how death affects us. What we cannot do is avoid death or conversations about death. I feel blessed to work for an organization that cares deeply about improving people's lives. Our team works tirelessly to allow our patients a natural, pain-free, and peaceful death. Just as important, we help families deal with losing a loved one by finding and maintaining a healthy grieving process. Alongside our direct care, we work in general, medical, and spiritual communities to educate networks of people who are able and willing to discuss advance care planning, healthy or "normal" grieving, and the end of life.
The uniqueness of our organization is that we do not run away from the hard conversations, suffering, or grief. We seek out those suffering and grieving, love them, and care for them. Our mission is honoring every moment of life, and for myself and my coworkers, it's a personal one.
With love,
-Tyler Turner